Last Updated on May 27, 2023 by
Are you planning a burgundy and gold color palette wedding theme and do not know how to start?
If yes then this guide is for you! Keep reading for everything you need to know about a burgundy and gold wedding!
Important Money-saving Tips:
Take pictures of the wedding site as early as possible to start planning the decorations.
You don't need to buy every decorative item mentioned in the list below for your wedding. Some professional decorators can lend you things like vases, mirrors, table centerpieces, dried flower arrangements, arc ways, pedestals, and plants that will only be used for one day. With these, just adding a few candles, laces, and fresh flowers will make your wedding site and reception exquisite.
If there are other weddings taking place at your wedding venue on the same day, check with the director to see if they have any input on your decorating ideas. You may want to coordinate with the couple that will be using the venue before or after you to come up with a plan that everyone is happy with. You can split the decorating expenses evenly amongst everyone involved.
Burgundy And Gold Wedding Flowers
Burgundy and gold is a popular color combination for wedding flowers, and they are especially beautiful together in bouquets of burgundy roses and bright gold filler flowers. These colors are also perfect for bridal bouquets, as they add a touch of glamour and sophistication.
Burgundy And Gold Wedding Table Decorations
If you are not careful with your decorating ideas, no matter how much you spend, the finished product will not look good. However, if you carefully choose two or three decorating ideas and execute them well, your ceremony and reception will look luxurious.
If you are having a rustic wedding, then you may want to choose items that are rustic in nature, such as hay bales or pine cones. If you are having a more traditional wedding, then you may want to choose items that are more traditional, such as flowers or candles.
Burgundy And Gold Wedding Reception Decorations
When guests attend a wedding ceremony or reception, the first thing they usually notice are the decorations. Therefore, it is important for every bride and groom to choose decorations that are both attractive and memorable, and that reflect their interests or the couple's personality.
The task of choosing wedding decorations is usually delegated to the bride and female members of the family and entourage. However, it is still preferred that the groom should help conceptualize the decorations to be used for the wedding.
Gold And Burgundy Wedding Centerpieces Ideas
When choosing the main color for your centerpiece and wedding decorations, keep in mind the colors of the attire that your guests will be wearing. If you have a favorite color, use that as your main color, or choose a color that is associated with your hobby or the season. Even for a gold and burgundy wedding, you can decide to have one of the colors be the main color, with a third color as complimentary. Just make sure that the colors will look good together.
Burgundy And Gold Shoes
Gold is a color that is associated with wealth, power and aristocracy. It is a great color choice for shoes for burgundy wedding dresses and suits.
Burgundy And Gold Balloons
The balloon is a good decoration idea for your wedding venue because usually decorations can only be set up one to two hours before the event. Therefore, you must consider decorations that don't take much time to mount. Also, these decorations should also be taken down right after the event.
Burgundy And Gold Wedding Bouquet
You have many options when choosing your wedding bouquet, including fresh flowers and silk flowers. Silk flowers that are made today are created so that they look very similar to fresh flowers, so you may want to give them a second thought if you hadn't considered using them. Not only will you save money, you will not have to worry about the flowers wilting, and preserving the flowers is a less painful process.
Burgundy And Gold Backdrop
Choosing the right wedding backdrop can be a daunting task, but with a little bit of research and some helpful tips, you'll be able to find the perfect one for your big day. If you're looking for something more modern and sleek, choose a fabric like silk or linen. Once you've decided on the style, take into account the size and shape of your space.
Burgundy And Gold Wedding Motif
Wedding motifs can be as simple as using a certain color in your hair or clothing, or as complex as incorporating a specific burgundy flower or golden bird into your ensemble. The choice is up to you and your wedding planner!
Burgundy And Gold Suit
If a burgundy or gold tuxedo suit is not accepted by the guys, then you can always opt for a navy, black or white suit with burgundy and gold details. These elegant unique suits are going to make your groomsmen look their best while they are out on the go.
Gold Wedding Makeup
Gold wedding makeup ideas can be very flattering on any skin tone, and they can really set off your beautiful burgundy hair or wedding dress. Try a gold eyeshadow or blush, and a light layer of gold lipstick to finish.
Burgundy And Gold Party Decorations
What type of wedding do you want? Formal or casual? Traditional or contemporary? This will help in deciding what type of candles, background, flowers, balloons, and other venue enhancements you will need for your burgundy and gold wedding party theme. Other factors to consider include
Mood setting
Color scheme
Site limitations
Time limitations
Number of guests
Budget
Burgundy And Gold Nail Designs
Are you searching for chic and classy nail designs that match your wedding dresses on your big day? The gold and burgundy color combo adds a point of highlight to your wedding look. Here are some popular ideas to kickstart your brainstorming:
Burgundy And Gold Wedding Cake
If you're looking to add a little bit of extra flair to your wedding, go for a burgundy and gold wedding cake! Not only will it look amazing on camera, but it'll also set the tone for an elegant affair.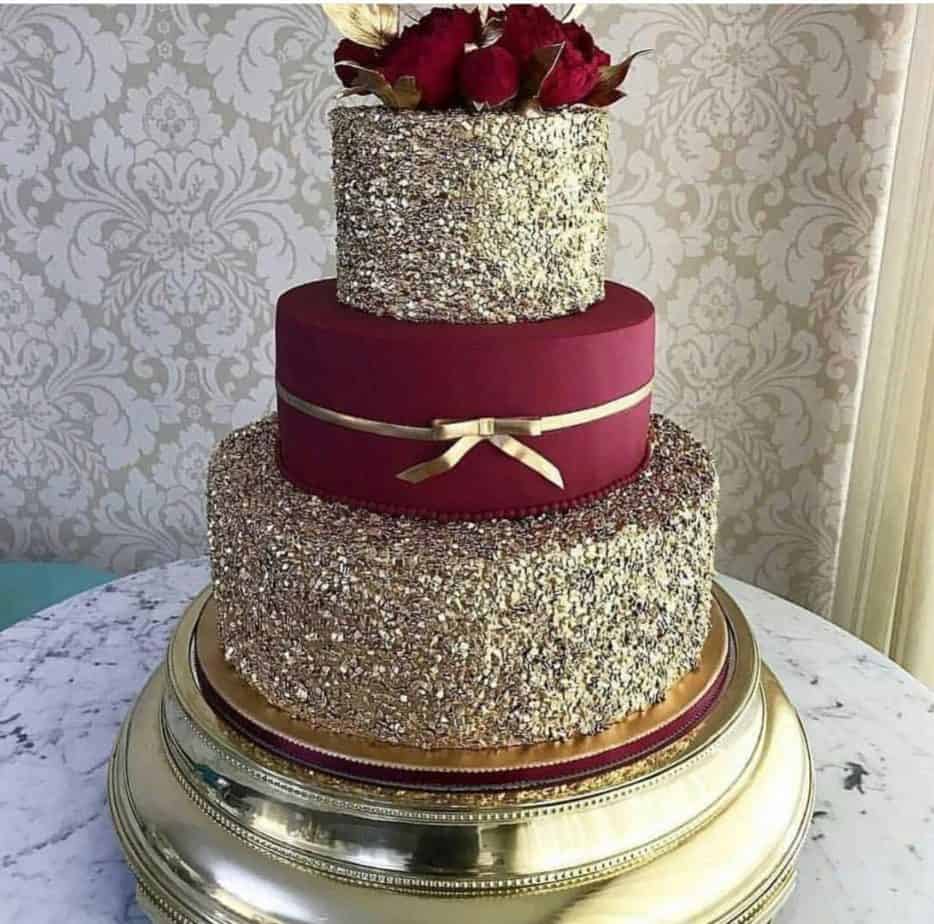 Burgundy And Gold Wedding Decor
When planning your wedding decorations, consider how many guests will be attending the reception and how much space is available. If you have a lot of guests, you may need to choose smaller decorations that won't take up too much space. If you have a lot of guests, you may want to set up floor decorations near the stage and dance floor, where most of the program will take place. You might also want to opt for smaller, finely detailed table decorations.
Gold And Burgundy Bridesmaid Dresses
If you're looking for a glamorous, yet understated, look for your next special occasion, consider wearing a burgundy bridesmaid dress with gold and rose gold accessories. This color combination is perfect for a summer wedding or formal event. The dress will add a touch of sophistication while the accessories – such as earrings and a necklace – will give you the pretty finishing touch.
Burgundy And Gold Wedding Dress
What could be more luxurious than a burgundy and gold wedding dress? This hue is sure to set off your beautiful features and make you feel like a goddess on your big day. If you're looking for something truly unique, then an elegant burgundy and gold wedding dress is the perfect choice for you.
Burgundy And Gold Hair
If you're looking for a striking look for your wine color wedding, consider pairing burgundy hair with gold highlights. This pretty color combination is sure to stand out and make a big statement. Make sure also to use matching cute golden hair accessories such as hair clips or pins.
Burgundy And Gold Wedding Invitation
Burgundy and gold are two colors that are often used together in wedding invitations. They are complementary colors and can help to create a stylish and sophisticated first impression for your wedding.
Does burgundy go with gold?
Gold and burgundy go together like peanut butter and jelly. They are complementary colors that go well together in most outfits. gold can add a touch of luxury to a burgundy outfit, while burgundy can add some depth and warmth to a gold outfit.
What colors go with gold and burgundy for a wedding?
Elegant and luxurious colors such as slate blue, navy blue, blush, black, pink, white, cream, gray, silver, champaign, green and ivory go well with burgundy and gold color combinations. If you are looking for a three-color palette for your gold and red wine wedding, here are some popular color schemes for you to copy:
Burgundy, blush and gold wedding
Black, gold and burgundy wedding
Burgundy, pink and gold wedding
Burgundy, white and gold wedding
Burgundy, gold and cream wedding
Burgundy, cream and gold wedding
Burgundy and champagne, gold wedding
Burgundy, blue and gold wedding
Burgundy, gold and silver wedding
Burgundy, gray and gold wedding
Burgundy, green and gold wedding